It's true that content, and how you market it, really can have a direct impact on sales. Using a combination of compelling copy and eye-catching visuals to answer your prospects' common questions and build their trust will no doubt help to shorten the sales cycle. Here's how…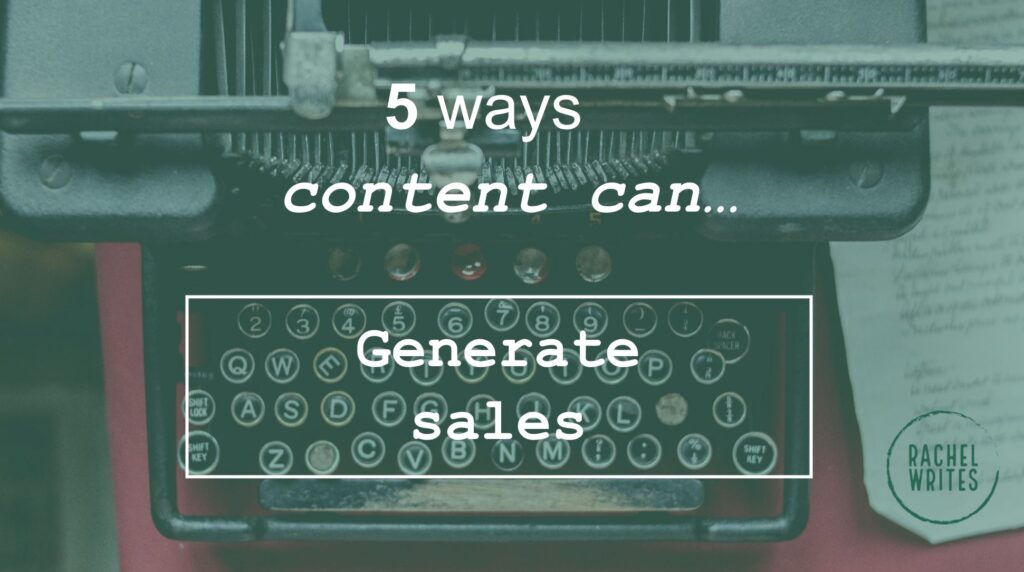 A 'standard' sales cycle is 3 1/2 months long (this of course depends on the product/service type and industry – I think we can agree that buying a car takes less time than hiring your accountant, but significantly more time than purchasing a chocolate bar) with most of that time being spent in the 'awareness' or 'evaluation' stage – a time during which your prospect has identified a problem and is trying to find the best solution. This is where your smart content comes in. If you develop email, blog, or case study content specifically crafted to answer the most common and important questions your prospects have, you can significantly shorten that sales cycle and achieve more sales.
To evidence the point further – it was outlined in Demand Gen's 2016 Content Preference Report, that 80 per cent of B2B buyers consume at least three pieces of content before even talking to a sales person or adviser. This shows the important part your content plays in priming your audience long before they come to consider making a purchase.
1. Understand how the conversion funnel works
Before you can create highly relevant content, it's important for you to make sure you've got a solid understanding of the conversion funnel. It's illustrated in slightly different ways, but in general it is comprised of three stages:
1) Awareness
This stage occurs at the top of the funnel and takes place simply when a prospect becomes aware of your company.
The prospect will be conducting research or looking for an opinion – they are seeking insight to answer a question.
2) Evaluation
A consumer will enter the middle 'evaluation' stage when they know of your brand and are still conducting research, but they now want to take things a step further – they are trying to decide whether your product or service fits their specific needs.
3) Conversion
Finally, the consumer reaches the bottom of the funnel when they enter the all-important 'purchasing' or 'conversion' stage. This is the area of the conversion funnel you need to target when it comes to creating highly relevant content that will generate sales – but you will have had to lead them here with compelling content first.
This is where you want your content to show prospects how you are different from the competition, what it would be like if they became a customer, and why your product/service is the best fit for them.
This graphic of the conversion funnel from Single Grain clearly shows the different stages and the most appropriate content to push prospects through each phase. [Include graphic].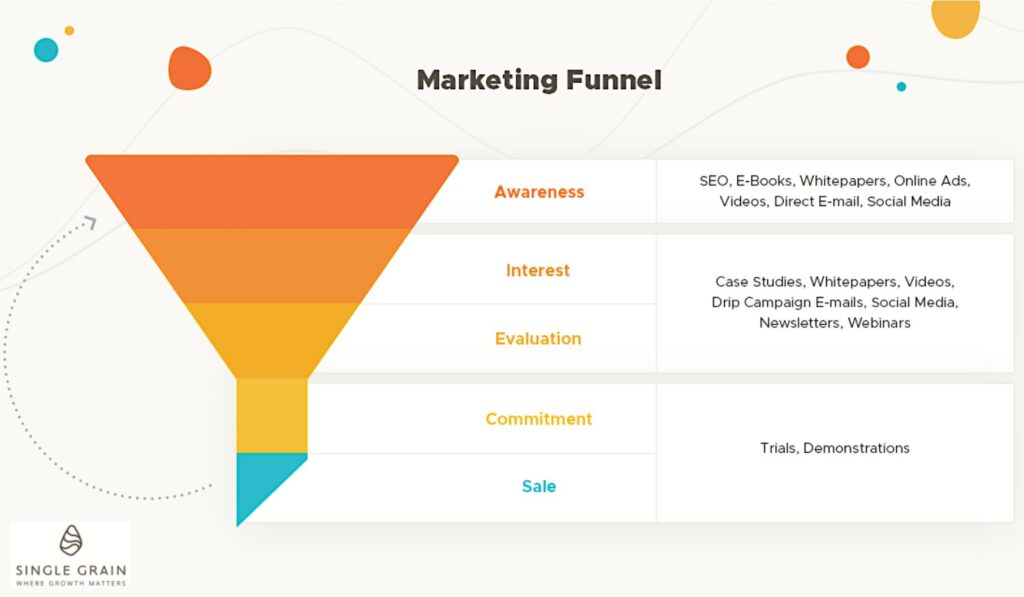 Here's how just a few content types can help you move people down the buyer's funnel before they even engage in a sales conversation:
2. Social media
Social media is a great platform to take advantage of when targeting prospects both in the 'awareness' and 'evaluation' stage of the funnel. Many people turn to social media and forums in their quest for recommendations.
Remember, they want to find potential solutions for their needs – not promotional content. Here's where you can position yourself as the helpful industry expert with content that helps them, no strings attached. If you're an accounting firm, maybe you want to share your checklist for planning your personal finances, or an infographic outlining financing available to start-up businesses. If you're a farm shop, maybe you want to share the best winter warming recipes for a slow cooker, or the top 10 things to put in a locally sourced Christmas hamper (both using items and ingredients sold in your shop),
Do some keyword research to work out what types of content you should be creating for the 'evaluation stage' — you can find out which search terms in your specialist area get high volumes of traffic and create content to reflect these.
Image focused content engages well with audiences on social media so don't forget to source eye-catching visuals to amplify your messages!
3. Case studies
Case studies can play an important role in generating leads and sales – they provide engaging evidence to help push prospects who are researching challenges and finding solutions further along the buying process, so they are already primed for your colleague or salesperson to seal the deal.
The value of a case study can also be used across blogs, social media, in videos, and newsletters, to help convince a wider audience of why your product or service is the right fit for them.
Read more about the benefits of cases studies in my blog here.
4. Demonstration
A demonstration is a great way to utilise content as a sales tools – it will help you get prospects excited about your solution, address their specific product-related concerns, and hopefully be all that's needed to turn them into paying customers!
When these would-be buyers have consumed your other content along the way – whether that be blogs, social media, or newsletters – and built up interest in your products or services, it might be a good idea to have set up a landing page which they can use to request an online demonstration via an online form. These requests are funnelled directly to salespeople to run the demonstration using their expert presentation skills.
While a demonstration lends itself to product-related companies, you might think this doesn't naturally fit with those in the service industry. However, those wanting to sell their services can showcase their greatest asset, their experts and advisers, in engaging videos illustrating what they can expect from embarking on a business relationship. Holding complimentary non-obligatory consultations tailored to the prospects' specific requirements will help get you closer to clinching the deal.
5. Earn repeat customers
So, your hard work has paid off and after engaging with your email content, and visiting your website over the course of a few months you've bagged yourself a customer! But this shouldn't be the end of the story…
It costs 5-25x as much to earn a new customer than retain an existing one. Also, while the probability of selling to a new user is around 5-20%, the probability of selling to an existing customer takes a significant rise to 60-70%. The stats speak for themselves and targeting content at those who already know that your company can solve their problems and trust your brand will only serve to accelerate an already speedier subsequent sale.
Automated email campaigns are a great way to keep customers engaged with your brand. On completion of one purchase, send an email featuring related products or services to get your customers thinking about their next purchase immediately after the first. Even if the user isn't interested in those exact products, this email could pique their interest and get them to return to the store.Or perhaps include a discount code or additional offers for the next purchase which complement that already made.
A regular customer e-newsletter will also help create regular touchpoints. Be sure to include a balance of branded messages which align with your culture and values, as well as strategic promotions of key products/services and discounts, to help keep the possibility of a purchase at the forefront of their minds.
If you've been able to drill down their marketing preferences a communication tailored to their interests and previous purchases will no doubt have more impact i.e. if someone came to you for pension advice, an invite to your upcoming retirement planning seminar might be of interest, however your e-bulletin aimed at start-up businesses would probably cause them to switch off!
Hopefully, this blog post has shown that content really can = sales, and earn yourself some repeat customers too. If you would like support in creating transaction-boosting content please get in touch!