Brand awareness is integral to the running of a business. In actual fact, it directly impacts how many customers and clients you generate – consumers are much more likely to purchase from brands they recognise and trust. So, whether you are a new company looking to launch, or an older brand reaching for revival, content can help tell people why you are different, why you are better, and why they should become a loyal customer.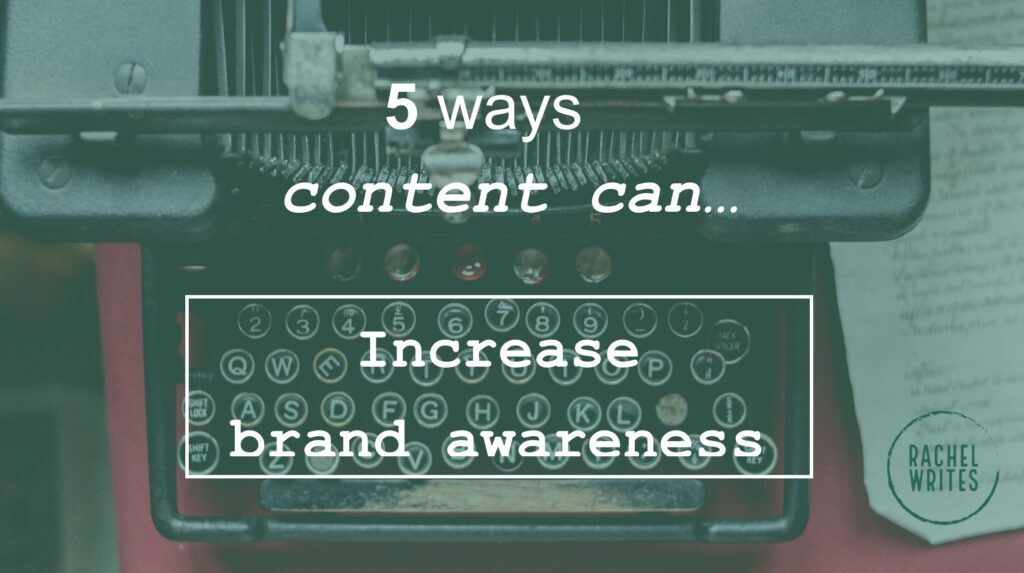 Brand awareness matters. It's not enough that people simply recognise your logo, it's important that your audience gets to a point where they recognise your brand and what it represents, and feel connected to you – and hopefully choose to buy from you again and again.
1. Shine a spotlight on your story
One of the best content topics for increasing your brand awareness is your company's story. Maybe you are family-run, driven by an entrepreneur from humble beginnings, were the pioneers in your field, been established for centuries, or have served notable clients. Narrating your history can help you connect with your customers on a more personal level and show them who you are, beyond just your products and services.
You can promote your brand in a way that reflects where you started, how you succeeded, and what you believe, along with your company's values. Tell your story via the 'About us' page on your website and pepper it across other content vehicles, whether it be printed brochures, photos shared on Instagram, or a short video narrated by your owner to help build a clear picture of who you are as a company.
2. Blog to build brand awareness
Writing a blog not only gives your company a voice in your industry but can be a valuable tool for building your brand awareness. When used as a platform to create one-of-a-kind content a blog allows potential customers to see you as the unique company you are and sets you apart from the competition.
Here are some suggestions on how to create a brand-boosting blog.
Fresh perspective
You don't always have to find completely new subjects to talk about (after all, you'll be hard-pressed to find something no one has expressed an opinion on!) – taking new angles on current topics of interest within your industry can help you establish your brand as innovative and authoritative.


Do your homework
If you're using content as a way to build your reputation, it needs to be accurate and trustworthy for your current and potential customers to trust you and your brand. If there is someone in your team who can fact-check your piece before publishing schedule this in – it's always a smart move to get someone to proofread a blog post anyway so perhaps combine the processes.


Give them what they want
It sounds obvious, but choose topics that your audience is interested in – these can be identified through monitoring conversations between your target audiences on social media, or using Google Analytics to identifying the most visited webpages and producing more content around these.

It could also be a good idea togive a behind-the-scenes insight into your company – whether it be a day in the life of the CEO or tracking the making of a product in the factory – everyone loves an exclusive!


Keep the competition in sight
Copying the competition isn't advisable, but keeping an eye on the content they are producing can give you the opportunity to get the edge. For example, if they produce a weekly 'how-to' video, maybe start producing a weekly webinar.
3. Get social to amplify your content
Social media platforms e.g. Facebook, Twitter, and LinkedIn are great ways to promote your brand-building content and reach a large audience.
Once you have a great video or blog to share, posting the content on your social media pages not only gets the messages out to your followers but also allows them to share the content and all that it stands for with their contacts at the click of a button – quickly ramping up your audience and their familiarity with your brand.
Another benefit of social media is the ability to access the comments and opinions of your audience. Responding to these will create a dialogue and further project your brand's tone of voice while forming relationships with your potential customers.
4. Harness the power of your people
The personal brand of your employees is just as important as that of your company. This is especially the case for those in the professional services industry (think financial advisers, accountants, and lawyers, etc.) – I talk more about this in my blog focusing on content in the professional services realm.
Giving your content the 'personal treatment' is a smart move. This can be done by attributing your blog posts to a member of your team and linking through to their bio on your website. Ensure that the content you are associating your people with is compelling and importantly correct, and make sure their bios are complete and include all the relevant information to portray their expertise – this all helps in building the all-important trust factor, which is then reflected on the company as a whole.
Also, encourage your people to share social media posts from the company accounts from their profiles. This amplifies the branded company content in a big way as it gets shared across their following.
5. Guest blog for other sites
First and foremost, it's important for brands to run their own blogs and build owned audiences i.e. people who have given you permission to engage with them through a property that you own such as a website, blog, or other content – but there is also brand-boosting value to be had by guest blogging.
Put simply, guest blogging is the process of writing and pitching blog posts for another publication.
To identify a blog or website which your company could write for, start by Googling 'xxx guest post guidelines' and 'xxx guest post' replacing the 'xxx' with your industry e.g. 'lawyers guest post', to find sites that accept guest submissions.
Email the sites you think are a good fit with your brand messages and submit a pitch in accordance with their submission guidelines. If successful, the opportunity provides a valuable introduction to a new audience!
If you would like support in producing brand-boosting blog posts, or crafting content that reflects your compelling corporate story, please do not hesitate to get in touch and put your brand in the spotlight.