Email trumps social media for communicating with customers – you are 6 times more likely to get higher click-through rates than tweets and it's 40 times more effective at acquiring new customers than Facebook or Twitter. When looking for ways to help your business flourish, growing an engaged email list should be high on your list of priorities. Read on to find out how content can help those green shoots show…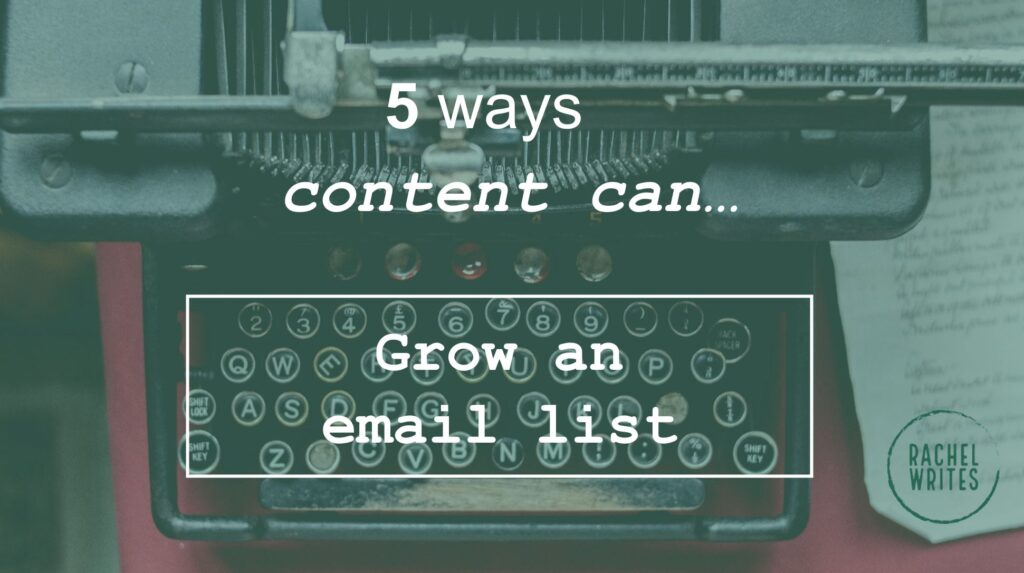 1. Exchange value – use free content to attract subscribers
Complimentary content given in exchange for a prospects' contact details is known as a 'lead magnet'. Digital Marketer defines a lead magnet as "an irresistible bribe offering a specific chunk of value to a prospect in exchange for their contact information."
The content piece could be anything – perhaps a report, cheat sheet, checklist, guide, infographic, or online tutorial – it just has to have perceived value. This can be achieved by addressing a specific problem found in your audience and giving a valuable solution.
If you're a law firm, maybe you want to offer a 'Will writing checklist' to help guide your audience through the tricky process. A farm shop might want to offer a '10 Summer recipes you have to try' e-book providing interesting ways to use the local seasonal produce they have in stock. Accountants and business advisers could offer a video series unpacking the announcements from a recent Budget announcement, meeting the need for a more digestible format than the usual streams of text and technical jargon.
Just remember to make it crystal clear what you are planning to use the contact details for. An opt-in checkbox or wording outlining what email lists the person will be added to under legitimate interest will do the trick – if you haven't already, brush up on your General Data Protection Regulation (GDPR) knowledge!

2. Drive action – insert 'call-to-actions' in associated blog posts
Once you have a 'lead magnet', you need to direct people to it and you can do this easily by including a 'call-to-action' (CTA) at the end of every related blog post. A CTA drives action – it is the part of a piece of content that encourages the audience to do something e.g. sign up to an email list!
A CTA needs to be simple, short and snappy and stimulate behaviour. Whether it's 'Sign up here to receive your complimentary guide to growing an email list', or 'Subscribe here to get your copy of our monthly e-newsletter', ensure that it visually stands out on the page as well. It could be bold text, the use of striking colours, or formatted as its own graphic or button – think about how to highlight it to grab attention.


3. Get attention – invest in 'evergreen' and thought leadership content
Investing in these two types of content is a particularly smart move for B2B companies – first let me explain what they are. Evergreen content is that which stays fresh and relevant for months or even years after you make it. It covers topics of lasting interest and value to your target audience. Thought leadership content is that which is educational and helpful, offers and fresh perspective, and answers the most pertinent questions on the minds of your target audience on a particular topic.
To create both types of content successfully you must first really know your target audience – what are their pain points? What are their opportunities? How are events in the outside world impacting them in particular? In reward for your investment in getting to know your target audiences and crafting bespoke content you will be seen as an expert, core voice, and go-to resource in your industry.
So, how does this content help grow your email lists? As mentioned above, it will help position your company as a source of insight and expertise, so your target audiences will no doubt want to subscribe to receive more of what you have to say – whether that be e-newsletters, webinars, white papers etc. You will want to insert a strong call-to-action within these articles to prompt behaviour, such as 'To be the first to read insights like this, subscribe to our e-newsletter here'.
4. Target the basket – e-commerce sites encourage subscription at point of sale
For an e-commerce website the point of purchase is where your customer will be the most engaged – so it makes sense to tap into this. Use smart content here to get them to sign up to your email list – they're already entering in their details for payment, and love what your selling enough to buy it, they might as well go that small step further and check a box to subscribe to your email lists!
Incentivise your soon-to-be-customer further by adding a purchase-related reward for subscribing. It could be 'Sign up to our newsletter to get £10 off your next purchase', or 'Get exclusive discounts when you subscribe to our newsletter now'.
5. Don't forget… add new clients and customers to your list
This isn't entirely content related, but remember to routinely add new clients and customers to your email lists – it's an easy win often forgotten especially when you're not an e-commerce company.
Under GDPR you are permitted to email current customers and clients under legitimate interest so there's no reason not to add them to your relevant mailing lists. Relevant is an important word here – your clients and customers won't thank you for adding them to all your mailings regardless of whether it's related to the services or products they have shown interest in.
For example, if someone uses the Probate services of an accountants and business advisory firm, they will likely not appreciate an e-bulletin regarding the latest developments in corporation tax. However, they will more likely be interested in being invited to your upcoming webinar on how to mitigate inheritance tax, or your monthly personal tax e-newsletter.
If you would like support in producing content assets to act as lead magnets, or a thought leadership style blog, please do not hesitate to get in touch and watch your email lists grow.